When coming along to The Glee for Christmas, we understand you may have lots of questions about the process. We have collected together some of the most common questions we get, with their answers here. Hopefully we cover it all, but you can always feel free to contact our box office for a chat with a human on 0871 472 0400 or christmas@glee.co.uk.
A whole night of festive cheer & comedy! You will see a brilliant selection of comedians, in a brilliant atmosphere, with The Bullingdon providing the cocktails and after party!
Our club is located in The Bullingdon on Cowley Road. The Bullingdon's cocktail bar will be open from 5pm, so you can join us for a drink in there and gather your group before coming through to the comedy.
The doors to the comedy open at 6.30pm, and last entry is 7.15pm. The comedy show will begin at 7.30pm. 
Seating is unreserved, so it is essential that all members of your party arrive in good time to take your chosen seats and ensure a smooth start to your festive celebrations! 
The Bullingdon bar will be open from the beginning of your evening until last entry, and will re-open during intervals and after the show.
The show will be in three sections, the MC will introduce each act and each section will last about 30 minutes. There will be two intervals of about 20 minutes to get a drink and some fresh air.
Shows will finish at approximately 10.00pm, when you are welcome to join revelers in the front bar where Dj's will entertain until the early hours.
Our auditorium is set out in theatre-style, with unreserved seats in rows facing the stage.
Please note: the room may be cleared of these seats after the show.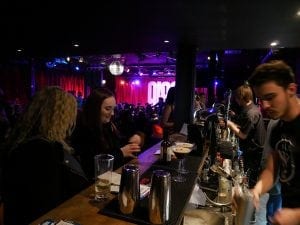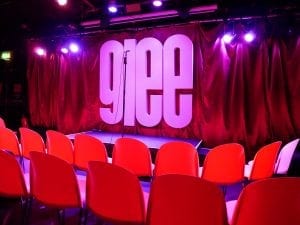 As with all of our shows, you can book immediately with a debit or credit card, with us taking full payment. At Christmas however, we can arrange alternative methods of payment for large groups of 20 or more.
We like to be flexible, so if you have any queries, simply get in touch via christmas@glee.co.uk
Glee is a great night out, whether you are a couple on the tiles, or a larger group. The capacity's the limit! If we've got the seats available, they're yours for the taking.
Please enquire with the Box Office if you have a particularly large party - 0871 472 0400 / christmas@glee.co.uk
As long as we still have ticket availability for the show you require, then yes. Get in touch and we'll take you through it, or go ahead and book those online, adding to your original booking.
However, please be aware that at Christmas time, we are extremely busy and completely sell out for most shows well in advance of the date.
As with all bookings we highly recommend contacting us as soon as is possible to avoid any disappointment.
If you have any drop-outs, please get in touch and we'll see what we can do for you. 0871 472 0400.
Unfortunately not. However, there are some great restaurants on The Cowley Road where we are situated, to eat before or after the show.
We know big groups can be difficult to buy drinks for, so we are more than happy to set up a pre-paid bar tab for you (minimum £300).
You can also set up a bar tab on the night of the show with a credit/debit card (we can't accept American Express i'm afraid). To do this, simply ask for the bar manager who will create and manage the tab for you. Please be aware we may pre-authorise the payment, with a refund given back for the difference at the end of the night.
You can login to the MYGLEE section of the website at any time, to take a look at any current bookings you have with us.
We will be in touch during the process of your Christmas booking, most of our correspondence will be via email. Please save us to your email contacts, so we don't get stuck in your spam filters!
We are a ticketless venue, it's less hassle for you, and saves a few trees. Once you have booked you will receive an email confirmation of your booking. This is for your own records, there's no need to print it, but do read it through.
Upon arriving at the club, we just need the name you booked under, this will gain you entry. If you are unaware of who in your party organised the group, please give a company name.
No, wear whatever you feel comfortable in. Some clothes are advised.
If you want to wear fancy dress, go for it, we don't have a problem with you looking a bit silly. However, you will be asked to remove anything that gets in the way of other customers' enjoyment of the show (eg, massive hats, flashing lights, noisy items).
Also feel free to do your Secret Santa presents opening early on, ideally before the food arrives. Please be aware our security staff may ask to see the contents of your wrapped gifts.
All comedy shows in December are strictly 18+. The security operate a Challenge 25 policy, so please have your id handy if you're lucky enough to look under 25!
Go on then, it's Christmas after all! Our after party is primarily for comedy customers, but we don't mind if Karen from the office wants to pop along to join in with your company's Christmas celebrations. As ever, we'll need to see ID if they are lucky enough to look under 25!
We have a limited amount of cloakroom space in each venue. Please enquire with the staff on the night.
Our venue is located on Cowley Road, and has good access to accommodation and transport.
Please take a look at our Venue Info page on our main website for further practical details.
Alternatively, a quick internet search using the venue postcode will provide options.
Oxford: OX4 1UE